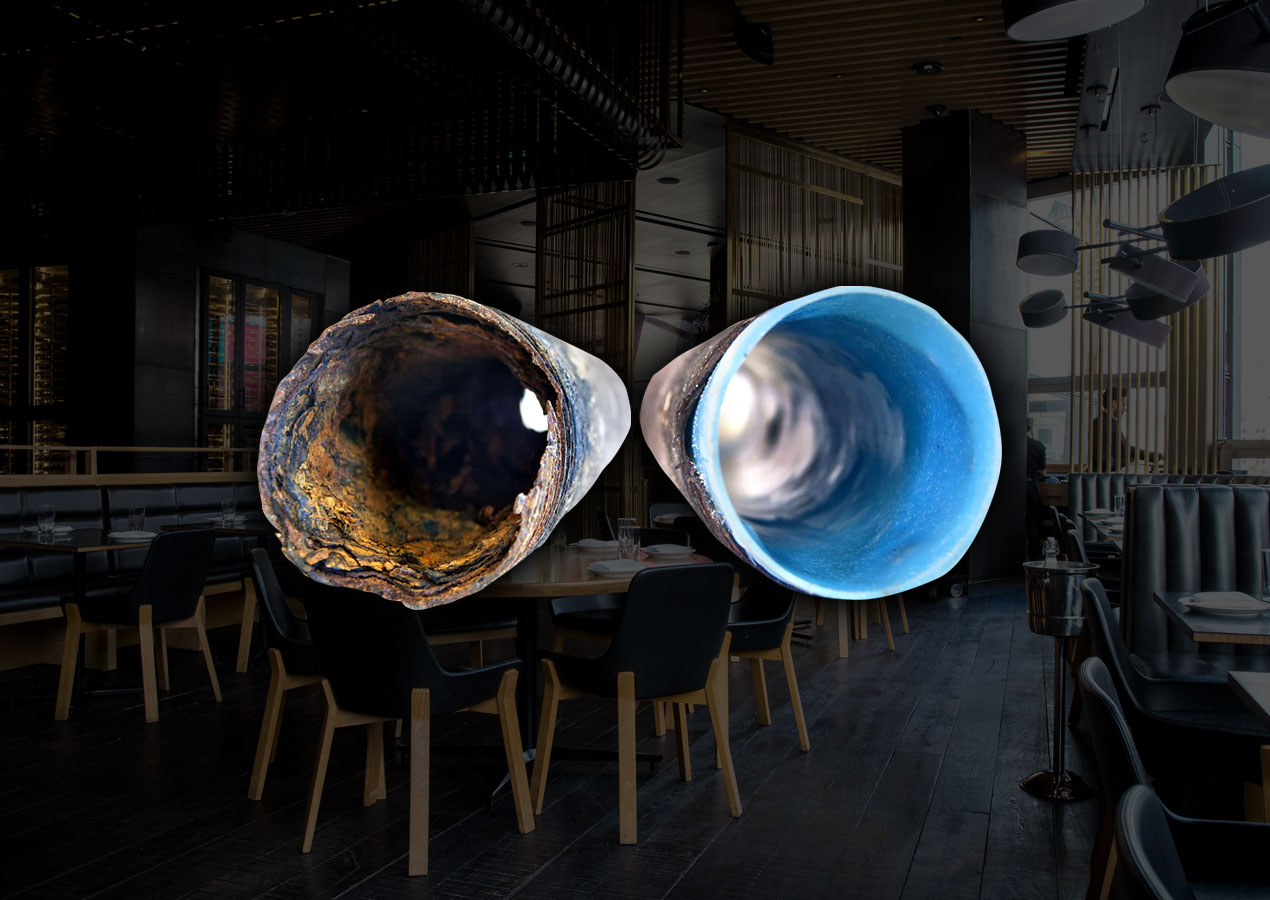 05 Dec

How NuFlow Can Save your Pipes in Hawaii

If you've looked into getting your pipes replaced, you know it can be a messy, expensive and wasteful procedure. And in Hawaii, where many homes and apartment units were built decades ago, pipes are bound to break, leak or corrode. Fortunately, there are other alternative solutions to pipe replacement jobs that can save your pipes and your budget, and future-proof your drain line. NuFlow—North America's longest operating, and leading in building small-diameter pipe lining experts—offers a service where, with their technology, NuFlow Certified Contractors can create a "pipe-within-a-pipe" with ease.
What is NuFlow Technology and Why is it Important?
Relining pipes with an epoxy-saturated liner is one of the best ways homeowners can fix leaky pipes without having to replace the entire part. By using the existing pipe as a mold—it's often referred to as the "host pipe"—, NuFlow relining technology, such as NuDrain, is able to fill the pipe's interior damages and cracks, patching leaks and faults in a non-invasive manner. From residential homes to condominiums and high-rise units, NuFlow's research and development team has been able to make the relining tech work in a variety of situations, with over 7,000 hours of development time going into their products.
NuDrain – Avoid Property Destruction
With NuDrain—which can also be referred to as a "cured in place pipe," or CIPP— NuFlow Certified Contractors can remedy pipe problems inside and outside of the home as well. From sewer drains to roof drains and more, CIPP can be used in a variety of situations and can be installed in pipelines with a diameter of fewer than 2 inches to over 12 inches. And because NuDrain uses existing access points, relining jobs involves minimal disruption to your home or business—and you can avoid digging into or destroying your property.
High Level of Compatibility
Compatible with numerous piping materials, like clay, concrete, metal, iron, steel, plastic and fiberglass, NuFlow products are also able to accommodate bends and turns in piping systems. And if there are large gaps in your pipe due to a loss of materials—typically caused by corrosion—NuFlow can fill that gap with ease.
What is the Process Like When Choosing NuFlow?
It's not just the technology behind NuFlow that makes it such a solid choice. NuFlow Certified Contractors—like 535 Plumbing—go to great lengths to make sure the relining process is fast and efficient. It starts with an inspection of the blocked or corroded pipes, via camera. The pipe is then thoroughly cleaned through several cleaning methods—such as descaling with our chain knockers, sandpaper for light cleaning, and or involving 3000psi Hydro jetting to ensure pipe has been brought back to its original size.
After being cleaned out, a flexible, epoxy-saturated liner is pushed into the pipe through a preexisting access point—like a drain cleanout, toilet, manhole, or due to no access—than it is pulled into place. An internal rubber bladder is then inflated, causing the epoxy-saturated liner to expand and press against the walls of your pipe. Once the epoxy has cured and hardened sufficiently, the bladder is deflated and removed, essentially leaving customers with a "pipe-within-a-pipe."
Why Choose NuFlow?
Compared to fully replacing your pipes, choosing NuFlow can lead to an abundance of benefits, especially for Hawaii homeowners on a budget. Since the operation does not require a large workforce or lots of machinery—nor does it need plumbers to tear down walls or dig up your home's landscape—the cost of relining will be much more affordable. And, while pipe replacement jobs can often take multiple days to complete, with a lot of noise and ruckus your neighbors are sure to love, relining with NuFlow Certified Contractors is often done in under a day—and with much less noise.
Most importantly, choosing NuFlow means investing in your pipes for the long run. Since many Hawaii homes are older, relining your pipes with NuFlow or NuDrain can increase their structural integrity for many years to come. Pipes lined with NuFlow are tough and efficient compared to unlined pipes, they can prevent cracks and intrusions from a variety of common culprits—such as tree roots—all the while providing residents with a smoother discharge.
535 Plumbing – Your NuFlow Pipe Relining Experts
If you live on Oahu and are in need of a pipe repair, choose 535 Plumbing for the job! Our team of professional Oahu plumbers are highly skilled and our excellent customer support representatives will work with you to schedule your appointments at a time you most convenient. Learn more and schedule an appointment by calling (808) 300-0535, or Visit Our Contact Us Page. Mahalo!